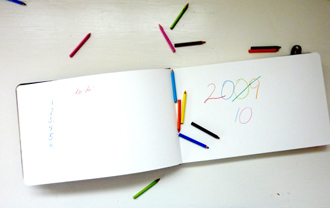 Resolutions and goals for 2010.
1.  photograph my dad painting (he'll hate this, but he is an AMAZINGLY gifted painter, and even though he was always   working on something, I don't think I've ever actually seen him paint.
2.  work on getting more shows, I think I do my best work with the motivation of a looming show
3.  have my work used as an album cover (music is a huge point of inspiration for me, so just throwin that out there, you never know, right?)
4.  eat healthier (you reading this mom?!)
5.  spend more time listening
6.  keep a sketch book
7.  paint, paint, paint some more….
8.  keep receipts and other 'business stuff' more organized (hubby made me add this one)
9.  organize and clean studio/office, and keep it that way
10.  yell less at other drivers
11.  go to more music shows at small venues/go to more art shows as well
12. take more mini vacations this summer (at least one to the mountains and one to the coast)
13.  finish all my house projects (repaint entry way/upstairs hall/powder room, paint floors, bench in mudroom, reupholster antique sofa I bought on craigs list) not that I'm looking forward to the floor painting mess but I know it will be amazing, unfortunately hubby is wavering, maybe i should suggest it could be an early b-day gift…
14.  figure out what I am currently most afraid/intimidated by and do it
15.  go on a special 'date' with each of my kids individually
16.  try to get back in the jogging/yoga habit
17.  curse less (people are always surprised to find out I curse like a sailor)
I'm sure I'll come up with more, once you get going it's hard to stop.  Hoping you have a wonderful new years eve and new year!  Cheers!